Even after trading away superstar Mookie Betts, the Boston Red Sox can still be a dark horse contender in the wild card race in large part because of their ace, Chris Sale.
It's not every day that a once-in-a-generation superstar gets traded in the middle of his prime. But that is exactly what happened in February when the Boston Red Sox traded former American League MVP Mookie Betts to the Los Angeles Dodgers in a monumental blockbuster trade.
The trade garnered stark criticism from the Red Sox faithful. And deservedly so. Instead of continuing to bolster an already stout ball club, Boston's ownership and front office decided it was best to look ahead and move Betts, who is slated to become a free agent after this season.
Although team owner John Henry denied the claim that they traded Betts to stay under the Competitive Balance Tax (CBT), it was clear this played a factor into their decision coupled with their recent breakdown in contract extension negotiations.
The fallout from the trade now has fans left wondering if a complete rebuild is on the horizon. Typically in baseball when a cornerstone talent is traded away, the franchise-altering deal triggers a domino effect of moves that inevitably leads to a rebuild. For instance, superstar talents like Giancarlo Stanton, Justin Verlander and Manny Machado were all traded from their respective homegrown teams over the past couple of years, which signaled a clear intent at retooling for the future from their former teams.
However, this Red Sox team is not remotely close to a complete tear-down. Even with Betts gone, this team is still capable of being in the playoff hunt. On offense, they still have the likes of Xander Bogaerts, J.D. Martinez and Rafael Devers — all of whom can post a 4.0+ bWAR season. New addition Alex Verdugo will not come close to replacing Betts' production, but a 3.1 bWAR and an OPS+ of 114 in 106 games last season gives Boston strong hope for a player who they can rely on in the lower part of their lineup.
Needless to say, Boston's playoff hopes in 2020 will not hinge on any hitter from their relatively prolific lineup. Instead, their playoff hopes will come down to a pitcher who is in dire need of a bounce-back season: Chris Sale.
The soon-to-be 31-year-old pitcher is coming off an underperforming, injury-plagued 2019 season. He posted career highs in ERA (4.40), FIP (3.39) and HR/9 (1.5) last season. While he was still able to register 218 strikeouts over 147.1 innings pitched, he was simply not the revered pitcher from seasons past. He was subsequently placed on the injury list for elbow inflammation in August and was not reinstated later in the season.
This was far from the Sale that baseball fans were so accustomed to watching. They were all used to seeing him dominate hitters by painting the inside part of the plate and making them look foolish with his breaking pitches. Instead, it was a season marred by late-inning collapses and a struggle to limit home runs.
As Sale touched on at spring training, last season was filled with a multitude of issues that all culminated in a dull year for both him and the Red Sox:
"I don't know if there's any one specific thing that was the deciding factor (last year). There were a lot of things that went into it. We threw a lot in the regular season (in 2018), threw a lot in the postseason, had a short offseason and all that stuff. I can give you all the excuses in the book but we just didn't get it done.
If the Red Sox wish to emerge as a surprise contender this season, they will need the Cy Young contending Sale from 2012-2018 and not the 2019 version. He will begin the season on the injury list due to illness, but the early projection is for Sale to return to vintage form. But of course, this is easier said than done because Sale's issues last season did not all revolve around pitching mechanics and injury.
For instance, one of the reasons for why he had a down 2019 was due to his struggles against the Yankees. In 13 innings pitched against the Yankees in 2018, Sale held the Bronx Bombers to a 0.69 ERA and a .188 batting average. In 2019, those numbers exploded to a 9.90 ERA and a 3.22 batting average over 20 innings pitched. Take away his atrocious performances against the Yankees and his ERA drops from 4.40 to a fair 3.54 mark. If Sale wants to be better this upcoming season, he must be potent against the Yankees — a lineup which is projected to mash the ball when Aaron Judge and Giancarlo Stanton are healthy.
Sale must address other distinct factors that derailed his 2019 campaign. For instance, the lefty struggled to establish any kind of chemistry with catcher Christian Vasquez. In games where Vasquez was catching last season, Sale posted a 6.68 ERA over 31 innings, which was up from 2018 when he recorded a 2.27 ERA over 47.2 innings with Vasquez.
Sale must also work on limiting the damage with runners in scoring position. Opponents hit .266 with a BAbip of .434 off Sale in RISP situations last season compared to an unparalleled .151 batting average and .235 BAbip in 2018. A decisive Sale in clutch situations can go a long way for what could be a bounce-back campaign.
Now, of course, the mechanics of his pitching repertoire will also factor into whether Sale will return to form this season.
Out of his four core pitches, his fastball will be one to closely watch in 2020. Last season, Sale generated mixed results with the pitch. He recorded a career high 46.2 percent strikeout rate with his fastball but also a 28.6 percent HR/FB rate.
When Sale had command of his fastball inside, hitters had a difficult time putting the ball in play. But at times when his command with it was sporadic, hitters often took advantage for a number of extra-base hits. He allowed 22 extra base hits and an exit velocity of 91.8 off the pitch, both of which ranked most among his pitches last season.
Sale allowed 12 home runs off his fastball, including on this Danny Jansen home run. Sale missed his location and Jansen took advantage of the high fastball by launching it to deep left-center field.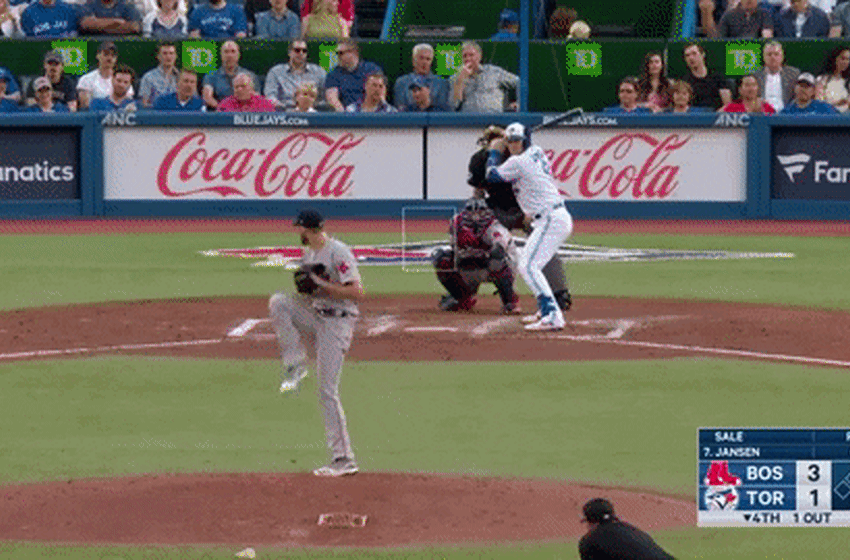 And here, the same issue transpires as Sale allows a home run off of a fastball up in the zone.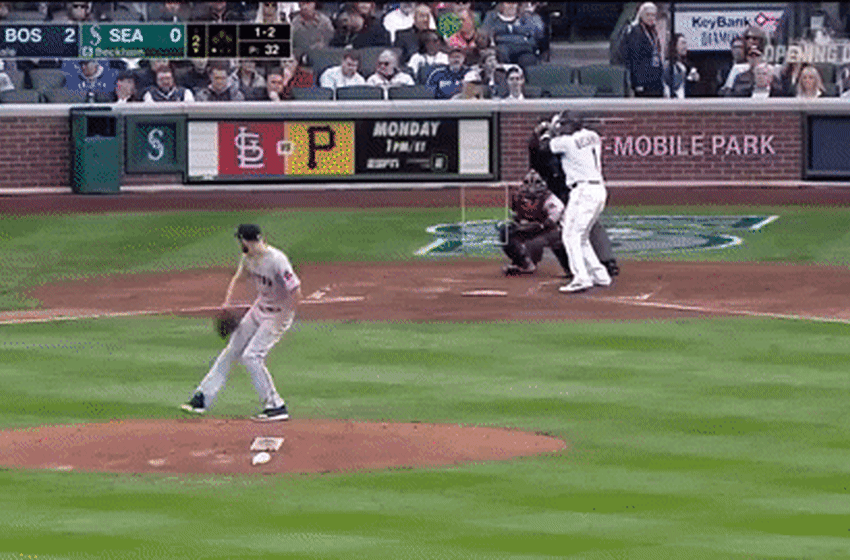 His fastball can still hit the mid to upper 90s, so it is all down to command with the pitch. If he can rejuvenate the pitch and lower the hard hits, he will also alleviate some pressure off of his other trio of pitches.
A healthy and viable Sale can do wonders for Boston's playoff chances because in the American League, nothing is guaranteed. Teams like the Angels, Athletics, Indians and Rays will all be vying for either of the two wild card spots, but there is no clear-cut favorite this upcoming season.
The Red Sox may not be among the World Series favorites anymore with both Betts and Price gone, but they are still more than capable of throwing their hat into the playoff race. As mentioned, they still do have one of the most dynamic lineups in the American League. And while their overall rotation is a question mark due to health, the group — including Eduardo Rodriguez — can very well put together a promising year.
But in the end, it will all come down to which Sale the Red Sox will get this season. A resurgent Sale could be just the catalyst Boston needs to surprise the baseball world and return to the playoffs in 2020.