The Angels were active in the off-season as they signed Anthony Rendon, but they failed to add a prominent starting pitcher. Do they have enough to contend with their current rotation?
Heading into the start of free agency back in November, the Angels had one clear off-season objective: address the team's starting pitching issues.
Last season, the Angels ranked near the bottom in all major statistical pitching categories. They came in at 25th in team ERA (5.12), 28th in FIP (5.04), 29th in team fWAR (5.8) and 28th in home runs allowed (267). Their starting pitching unit defined unreliable as they ranked 30th in innings pitched (681.0) and 29th in ERA (5.64).
(All stats via Baseball Reference and Fangraphs)
Regardless of whether a team has the best player in the game and a plethora of other All-Star-caliber bats in the lineup, no team can emerge as a playoff contender with those kind of pitching numbers.
As has been the case in previous seasons, injuries also played a factor in the Angels' demise from a dark horse playoff contender to a 72-90 team. According to Spotrac, Angels starting pitchers combined for 487 total days on the injured list, which ranked 9th in all of baseball. And since 2017, Angels starting pitchers have combined for an astounding 2,208 total days on the injured list, which ranks first in MLB by a significant margin.
It was clear as day the Angels needed to add multiple reliable and efficient starting pitchers in an effort to build a formidable contender. As team owner Arte Moreno alluded to previously, the Angels were in dire need of drastic changes because they did not a 95-win club, which is the magic number for playoff teams as of late. And with a franchise that has a once in a generation talent in Mike Trout coupled with a high payroll, the pressure was on for the front office to haul in several stout arms.
In the end, the Angels were unable to capitalize on the rich free agent starting pitcher market.
Angels GM Billy Eppler failed to land Gerrit Cole and missed out on an array of other viable pitchers such as Zack Wheeler, Madison Bumgarner, Dallas Keuchel and Hyun-Jin Ryu. Any of those pitchers fit the bill for the Angels needs of high-end starter capable of providing at least quality starts on a near game-by-game basis. More importantly, the five pitchers mentioned are all able to produce a 30 start, 200+ innings pitched campaign — a feat which no Angel pitcher has accomplished since Garrett Richards in 2015.
Like they did last season after striking out on the Patrick Corbin sweepstakes, the Angels turned to Plan B. Prior to Cole's decision to sign with the Yankees, Eppler traded for Orioles' Dylan Bundy and subsequently signed free agent Julio Teheran later in the month. Neither of the two are a franchise-altering talent, but at the least they each are veteran and experienced arms.
In the big picture, the focus all currently centers on what is the Angels' plan for starting pitching this upcoming season. Of course, Eppler had major winter plans of landing an ace or two but came up short. Assuming they will not make another addition to bolster their rotation before the start of spring training, the Angels are at 11 starting pitchers, including their two new additions. It all begs the question of if their current pitching personnel is good enough to push the team into contender status?
First, it is important to evaluate their new additions in Teheran and Bundy.
Beginning with Teheran, the former Braves pitcher checks off one major need for the Angels: durability. Over his final seven years in Atlanta, he recorded five seasons with at least 30 starts and 180 innings pitched. Over that same time span, the Angels had a mere six different pitchers hit the two targets. Teheran has the track record of being a potent starter that a manager can rely on every fifth game.
Success for Teheran with the Angels will revolve around a number of components, including the use of his sinker. The pitch has become his go-to one over the years after a period where that was far from the case. In 2015, opponents hit .313 with a .363 wOBA against his sinker coupled with a low 7.7% strikeout percentage. But last season, Teheran held opponents to a .187 batting average and a .232 wOBA along with a relatively high 24.3% strikeout percentage.
Considering the sinker was his second most thrown pitch in 2019, Teheran will need to build off of this momentum and once again establish the pitch as his most dominant one this upcoming season.
When he is able to precisely locate the sinker in the bottom half of the zone, it is extremely difficult to make any kind of contact with the pitch.
If there is one aspect of Teheran's mechanics that manager Joe Maddon and pitching coach Mickey Callaway will need to address, it is his declining slider. In 2018, Teheran's slider was among the best in all of the NL, with an opponent's batting average of .143 and a wRC+ of 47. However, he was not able to mirror the same results in 2019 as opponents hit .257 off the pitch and compiled a wRC+ of 115.
It is imperative that Teheran must work on generating more down and away movement from his slider in order to solidify the pitch as another go-to.
On the other hand, Bundy is an intriguing addition to the Angels rotation. Many presumed the trade resembled that of last season when Eppler added project pitchers Matt Harvey and Trevor Cahill. But that may not be the case with the 27-year-old right-hander. Like Teheran, Bundy is also a durable, workhorse starter. He has recorded a total of 89 starts and amassed over 160 innings pitched in the last three seasons.
The reason for the skepticism around the Bundy trade — and why Baltimore were willing to trade him — is because of the downsides to his game. At best, Bundy is more than capable of providing a seven-inning quality start. But in games where he does not have command of his pitches, which has become the norm for him, it can go south quickly.
Among pitchers with at least 50 total starts over the past two seasons, Bundy ranks last in ERA (5.13) and HR/9 (1.89). His 9.4 H/9 over the past two seasons is not an ideal rate by any means.
If Maddon and Callaway wish to develop Bundy into a formidable back end of the rotation starter, all of the focus must turn to his deteriorating fastball. The pitch has somewhat become a lost cause for Bundy.
Last season, opposing hitters often had a field day against Bundy's fastball; he allowed a .333 batting average with 17 home runs and a 179 wRC+. The .350 opponent's BABIP against his fastball only reiterates how Bundy was not able to maintain a firm command on the pitch.
For a pitch that was once rising in the mid to high 90s, Bundy's fastball now averages at a velocity of 91.5. But as pitchers like Ryu have exemplified, an overpowering fastball is not needed in a pitcher's repertoire in today's game. With a higher emphasis on location, Bundy's fastball may be rejuvenated in 2020, which may indicate improvement across the board.
But there also must be a precise focus on his secondary pitches, such as his .219 wOBA slider.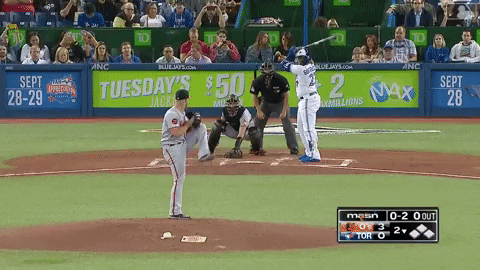 When looking around the Angels' other rotation options, there is one word that resonates strongly with this group: potential. The Angels rotation, aside from their two additions, is made up of unproven starters due to inexperience in the majors or injury-plagued seasons. The ceiling for many of them is a number two or three starter in the rotation with the possibility of blossoming into an All-Star talent down the road.
Now the term potential may indicate that the Angels pitching unit is made up of young talents with very few years of experience in the majors. But this is not the case for every single one of them.
At 28, Andrew Heaney is the longest tenured starter on the Angels, and one is who in dire need of an all-around exceptional season. Over his five seasons with the Angels, he has combined for a mere 408.2 innings pitched. Last season's struggles stemmed from a multitude of injury list stints and inability to limit the hard hits. Heaney allowed 20 home runs in 95.1 innings along with a career high 39.4% hard hit percentage. If the Angels wish to have a turnaround year with their pitching staff, it starts with Heaney's production.
There is some hope within the Angels fanbase on an improved 2020 because of the team's two prized youngsters: Shohei Ohtani and Griffin Canning.
Ohtani is slated to return to pitch in 2020 after missing out last season due to Tommy John surgery. His projections for this upcoming season are up in the air. His only season of experience came in 2018 where he recorded an adequate 3.57 FIP and 11.0 SO/9. And the last time he reached the 20 starts mark was four years ago while pitching in the Japan Pacific League.
Taking into account the potential restrictions for his pitching schedule this season due to his hitting responsibilities, the Angels may not see Ohtani reach the 150 innings pitched target, which they desperately need from anyone.
Canning is an intriguing talent to watch in 2020. He had an up-and-down rookie season that was derailed due to injuries and a 6.28 ERA over his final seven starts. But the Angels front office would tell you, the potential is through the roof for Canning. He is a prime candidate for a breakout campaign, but any improvement starts and ends with his fastball. His 94.1 mph fastball generated a fair 8.7% swinging strike percentage, but it also hauled in a poor .356 wOBA and a 134 wRC+. With stark improvement in his fastball command, Canning could very well double both his O-Swing% and SwStr% rates.
The rest of the Angels starting pitching staff is filled with wild cards. Youngsters Jaime Barria, Jose Suarez and Patrick Sandoval all may receive opportunities to show their value, but they will likely begin the season in the minors. Felix Pena and Dillon Peters each reached the 70 inning mark last season and could factor into the Angels' plans if injuries become a prevalent issue once again. The same goes for new addition Matt Andriese, who is reported to receive starting opportunities as well.
As it stands, the Angels starting rotation is slated to feature Ohtani, Teheran, Canning, Heaney and Bundy. As mentioned, the Angels will need improvements across the board from these five to not only contend but also alleviate the pressure off of the bullpen.
But as shown by the Fangraphs projections for the Angels rotation this upcoming season, Maddon may be in for a struggle with his new rotation. It is concerning that no player is projected to hit the 3.0 fWAR target, which no Angels pitcher was remotely close to reaching last season.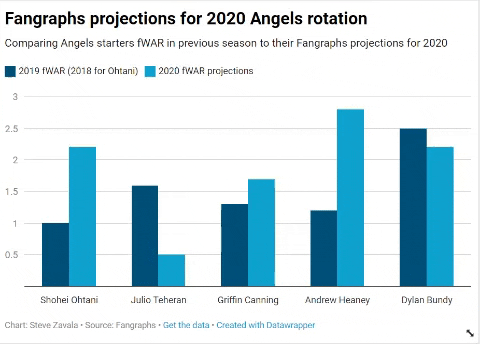 Despite the high-profile addition of Anthony Rendon, the Angels will only go as far as their starting rotation takes them.
While the general outlook may justify cause for concern, there is hope that the Angels may end up with a decent rotation because of their new coaching staff. New manager Maddon has made his career on reviving pitching staffs, including in his recent tenure with the Cubs. And new pitching coach Mickey Callaway is renowned for his work in Cleveland, where he revamped the Indians' pitching staff from one of the worst in the AL to among the most dominant in all of baseball.
Now, the Angels could also look to add a veteran arm via the trade market, such as Cleveland's Mike Clevinger or Boston's David Price. But at the moment, it is highly unlikely Eppler would depart with top prospects Jo Adell or Brandon Marsh to facilitate any kind of trade for a pitcher.
So, as things stand, Eppler will head into spring training with what he currently has on his roster.
The best-case scenario is that the Angels will emerge a favorite in the wild card race thanks to a rejuvenated rotation. But at the worse, they may end up wasting what could be an electic year from their offensive unit and once again miss out on the playoffs.